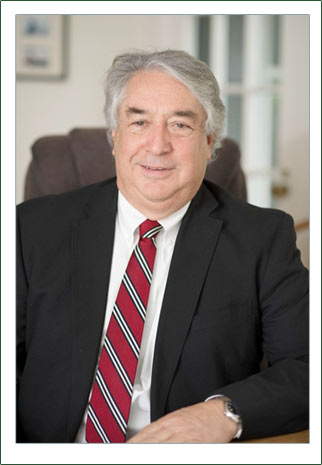 John R. Hughes, Jr.
ATTORNEY
John R. Hughes, Jr. has practiced in the areas of trust and estate planning, and commercial and residential real estate since 1973. He represents businesses, banks and individuals in a wide range of commercial transactions and disputes including foreclosures, employment, construction, real estate and other business matters. John specializes in the area of estate planning and elder law, and is also a trial lawyer with over forty years' experience in New Hampshire and Vermont trial courts, and has appeared in numerous appeals before the Vermont Supreme Court and the United States Court of Appeals. John has served as a law clerk to the Chief Judge of the United States District Court of Vermont, a Superior and Federal Court mediator, a federal prosecutor, and a state public defender in Vermont.
Some of Attorney Hughes representative cases include:
State v. William Beede (1978) (murder defense)
Whitcomb v. Commissioner of Taxes, 144 VT 466 (1984) (use tax appeal)
Farmers Production Credit Assn. v. Arena, 145 VT 20 (1984) (foreclosure & suit on Note)
United States v. San Juan, 545 F.2d 314 (2d Cir. 1976) (criminal appeal)
Gary H. Schall v. James Gilbert, NSB and Wells River Savings Bank, 169 VT 627 (1999) (statute of limitations)
Domus Inc. v. Apollo Business Corporation (NH Supreme Court 1996 Term) (choice of forum)
Maska v. Kansa Insurance, et al (VT USDC 1999) (pollution exclusion)
Centricut LLC v. ESAB GROUP (NH USDC 2004) (patent litigation)
Jean Moss v. Bread & Chocolate (VT Supreme Court, 2006) (contract – summary judgment)
Whiskers-N-Wizards v. Datamann, Inc (VT Supreme Court 96-407) (contract dispute)
Morse v. Green Mountain Metals, Inc. (VT Superior Court 1996) (wrongful termination)
Attorney Hughes served on active duty in the United States Army for four years and seventeen years in the Army Reserves and Vermont National Guard. He was a paratrooper in Germany for 2 years and served as a Company Commander and Division Staff Officer in the Republic of Vietnam from 1969-1970. John's decorations include the Meritorious Service Medal, two Bronze Stars, Air Medal, Army Commendation Medal, Ranger Tab and Paratrooper Badge. He has served on the boards of numerous non-profit organizations in the Upper Valley, has been a member of the Hanover Recreation Board and Hanover Planning Board, and was a youth hockey and baseball coach.
John is a graduate of the University of Vermont, Seton Hall University – School of Law, and has an LL.M in Taxation from the Boston University School of Law and an LL.M in Elder Law from Stetson University College of Law.
Attorney John R. Hughes, Jr. is admitted to practice in the state and federal courts of New Hampshire and Vermont and is admitted to practice before the United States Supreme Court. He is a member of the Real Estate, Estate Planning and Elder Law Sections of the New Hampshire Bar and the National Association of Elder Law Attorneys (NAELA) and its New Hampshire Chapter.
Contact: jrh@hsh-law.com